Meeting to commemorate 94th anniversary of the National Leader Heydar Aliyev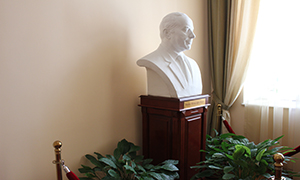 National Leader Heydar Aliyev's 94th anniversary was commemorated in the meeting held at the Conference Hall of Presidential Library. At first the participants took pictures in front of the bust of the national leader in Presidential Library.Then the participants of the meeting looked through the book exhibition and shared memories about the outstanding leader.
A documentary film about the life of the great leader Heydar Aliyev was shown at the end of the event.