Presidential Library commemorated the national leader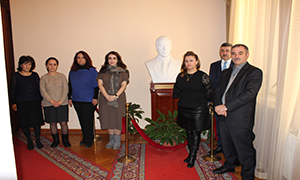 On December 12, a commemoration honouring the national leader of the Azerbaijani people Heydar Aliyev was held in Presidential Library.
First, the event participants paid tribute and laid fresh flowers at the bust of Heydar Aliyev in the foyer of the library. Later on the participants got acquainted with the book exhibition covering different areas of the national leader's life and activities in the Conference Hall.