Electronic publication "Azerbaijan. State Symbols and Attributes" has been updated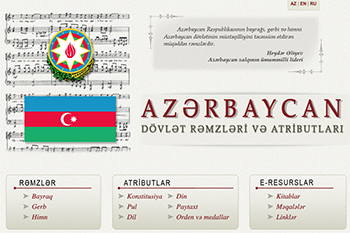 Extensive propagation of the essence and significance of the state attributes directly contributes to inspire the citizens' respect for the flag, the emblem and the anthem of Azerbaijan and to strengthen their patriotic spirit.
"Azerbaijan. State Symbols and Attributes" e-publication systemizes the history of origin of the independent Azerbaijan symbols (flag, emblem and anthem) and presents consequent steps made in the process of restoration of the national symbols. The e-publication gives chronological sequence of resolutions, laws, orders and decrees regarding state symbols and attributes since the Azerbaijan People's Republic period (in Azerbaijani, English and Russian languages).
Flags referring to the period of khanates in Azerbaijan, emblems of cities and provinces that existed in Azerbaijan during the tsarist Russia, as well as the state symbols and attributes of the Azerbaijan SSR during the Soviet period are collected in the electronic publication.
See details:
http://symbols.preslib.az