Meeting with distinguished library scientist Abuzar Khalafov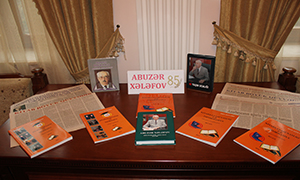 On November 17, 2016, a meeting between the distinguished library scientist, Doctor of Historical Sciences, Professor Abuzar Khalafov and the library staff was held in the Conference Hall of Presidential Library.
Director of the Presidential Library Mayil Ahmedov made an opening speech and spoke about the outstanding scientist's 85 year old multifarious walk of life, also presented gifts on behalf of the Presidential Library. The meeting was attended by representatives of the Library and Information Department of Baku State University and leading libraries of the country.