Cooperation between Presidential Libraries is expanding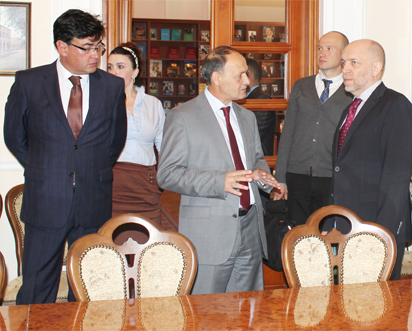 Presidential Library of Administrative Department of the President of the Republic of Azerbaijan is steadily developing ties with leading foreign libraries. International conferences held in various countries contribute to the expansion of mutually beneficial relations. Attendee of the 27th Annual Meeting of the Conference of European National Libraries (CENL) General Director of Presidential Library of the Russian Federation named after Boris Yeltsin, Alexander Vershinin visited the Presidential Library on September 26.
After being acquainted with library collections, electronic resources and the process of work in the Library, the guest gave detailed information on the library he headed. Alexander Vershinin noted that, the Presidential Library named after Boris Yeltsin founded in 2007, is financed by Federal budget and is one of three libraries of Russia bearing the status "national". The guest notified the colleagues that the Presidential Library named after Boris Yeltsin being an electronic library, creates electronic publications about historical background of Russia, its statehood traditions and prominent statesmen. Alexander Vershinin further noted that the main part of the collection of Presidential Library are composed of rare archive documents, decrees in the time of tsarist Russia, audio/video recordings and so on.
Director of Presidential Library Mayil Ahmedov informed the colleague about the works done within 10 years, also gave a detailed account on electronic resources, and stressed the importance of exchange of experience in the activities of libraries.
At the end of the meeting the guest was presented a commemorative gift.