Meeting with representative of the Iravan khans Amir Ali Sardari Iravani was held in the Conference Hall of Presidential Library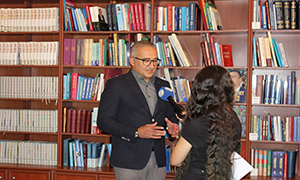 On August 20, 2019, Presidential Library of Administrative Department of the President of the Republic of Azerbaijan hosted a representative of the Iravan khans Amir Ali Sardari Iravani. The event was opened by the director of the library Mayil Ahmadov, who noted that the history of the Iravan khanate is an integral part of the material and spiritual culture of the Azerbaijani people for thousands of years.
Introducing the guest, the director said that Amir Ali Sardari Iravani is a representative of the Iravan khans who lives in Germany. The flourishing of Iravan as a city falls during the period of the rule of Huseyn Ali Khan and his children. To date, the only historical and architectural monument in Yerevan is more than 250 years old the Blue Mosque Complex. This complex was built during the period of Huseyn Ali Khan in 1760-1765.
In the speech he made, Amir Ali underlined that the city of Iravan was built by Azerbaijani Turks. He also gave the detailed information about the genealogy of the descendants of Huseyn Ali Khan, their place of residence and emphasized the importance of intergenerational relations.
The reports of the Deputy Director of the Institute of History of ANAS Jabi Bahramov, scholars and historians Firdovsia Ahmadova and Elchin Garayev, philologist Jalal Allahverdiyev and researcher Telman Gasimov have provided the audience with a wealth of information on this matter. At the event, it was stressed the importance of coordinating the activities of representatives of the Iravan's descendants.