Another moral bridge connecting Kars with Baku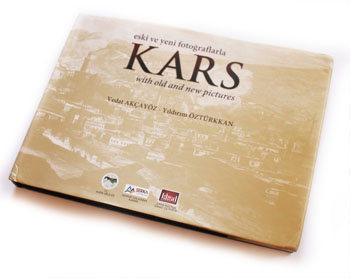 The book titled "Eski ve yeni fotograflarla Kars" (Kars with old and new pictures) recently published by Kars Culture Arts Association, contains the pictures and photographs taken by European and Russian travelers, artists and researchers came to see Kars, Sarigamish and Ani in different times. The peculiarity of the book is that, the old images of every building, district or historical architectural monument of Kars, Sarigamish and Ani was presented alongside with present-day view.
Kars Culture Arts Association has being cooperated with the Presidential Library since 2010. Presidential Library has never denied its information support in answering the questions related to Azerbaijani culture, art and history in various projects carried out by Association. Within the framework of cooperation with Association, Presidential Library supported it with factual data concerning Azerbaijani history, art and culture.
The authors of the book Vedat Akchayoz and Yildirim Ozturkan in their foreword expressed their gratitude to employees of the Presidential Library for the assistance rendered in collection of materials on the period of Russian occupation of Kars.